Page 7 - American Band College 2015 Concert Program
P. 7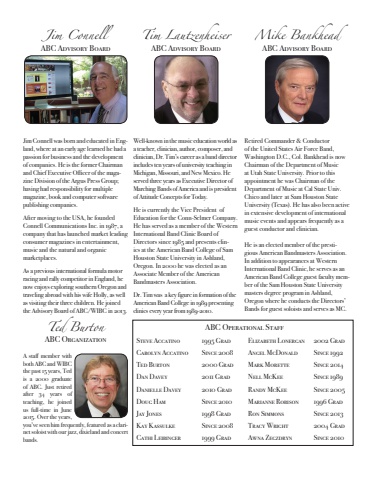 Jim Connell
ABC Advisory Board
Jim Connell was born and educated in Eng- land, where at an early age learned he had a passion for business and the development of companies. He is the former Chairman and Chief Executive Officer of the maga- zine Division of the Argus Press Group; having had responsibility for multiple magazine, book and computer software publishing companies.
After moving to the USA, he founded Connell Communications Inc. in 1987, a company that has launched market leading consumer magazines in entertainment, music and the natural and organic marketplaces.
Tim Lautzenheiser
ABC Advisory Board
Well-known in the music education world as a teacher, clinician, author, composer, and clinician, Dr. Tim's career as a band director includes ten years of university teaching in Michigan, Missouri, and New Mexico. He served three years as Executive Director of Marching Bands of America and is president of Attitude Concepts for Today.
He is currently the Vice President of Education for the Conn-Selmer Company. He has served as a member of the Western International Band Clinic Board of Directors since 1985 and presents clin-
ics at the American Band College of Sam Houston State University in Ashland, Oregon. In 2000 he was elected as an Associate Member of the American Bandmasters Association.
Dr. Tim was a key figure in formation of the American Band College in 1989 presenting clinics every year from 1989-2010.
Mike Bankhead
ABC Advisory Board
Retired Commander & Conductor
of the United States Air Force Band, Washington D.C., Col. Bankhead is now Chairman of the Department of Music
at Utah State University. Prior to this appointment he was Chairman of the Department of Music at Cal State Univ. Chico and later at Sam Houston State University (Texas). He has also been active in extensive development of international music events and appears frequently as a guest conductor and clinician.
He is an elected member of the presti- gious American Bandmasters Association. In addition to appearances at Western International Band Clinic, he serves as an American Band College guest faculty mem- ber of the Sam Houston State University masters degree program in Ashland, Oregon where he conducts the Directors' Bands for guest soloists and serves as MC.
As a previous international formula motor racing and rally competitor in England, he now enjoys exploring southern Oregon and traveling abroad with his wife Holly, as well as visiting their three children. He joined the Advisory Board of ABC/WIBC in 2013.
Ted Burton
Steve Accatino Carolyn Accatino Ted Burton
Dan Davey Danielle Davey Doug Ham
Jay Jones
Kay Kassulke Cathi Leibinger
1995 Grad Since 2008 2000 Grad 2011 Grad 2010 Grad Since 2010 1998 Grad Since 2008 1999 Grad
Elizabeth Lonergan Angel McDonald Mark Morette Nell McKee
Randy McKee Marianne Robison Ron Simmons Tracy Wright Awna Zegzdryn
2002 Grad Since 1992 Since 2014 Since 1989 Since 2005 1996 Grad Since 2013 2004 Grad Since 2010
ABC Operational Staff
ABC Organization
A staff member with
both ABC and WIBC
the past 15 years, Ted
is a 2000 graduate
of ABC. Just retired
after 34 years of
teaching, he joined
us full-time in June
2015. Over the years,
you've seen him frequently, featured as a clari- net soloist with our jazz, dixieland and concert bands.