Page 4 - American Band College 2015 Concert Program
P. 4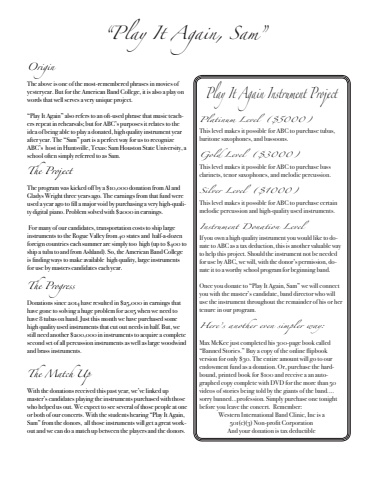 Origin "Play It Again, Sam"
The above is one of the most-remembered phrases in movies of yesteryear. But for the American Band College, it is also a play on words that well serves a very unique project.
"Play It Again" also refers to an oft-used phrase that music teach- ers repeat in rehearsals; but for ABC's purposes it relates to the idea of being able to play a donated, high quality instrument year after year. The "Sam" part is a perfect way for us to recognize ABC's host in Huntsville, Texas: Sam Houston State University, a school often simply referred to as Sam.
The program was kicked off by a $10,000 donation from Al and Gladys Wright three years ago. The earnings from that fund were used a year ago to fill a major void by purchasing a very high-quali- ty digital piano. Problem solved with $2000 in earnings.
Play It Again Instrument Project Platinum Level ($5000)
This level makes it possible for ABC to purchase tubas, baritone saxophones, and bassoons.
Gold Level ($3000)
This level makes it possible for ABC to purchase bass clarinets, tenor saxophones, and melodic percussion.
Silver Level ($1000)
This level makes it possible for ABC to purchase certain melodic percussion and high-quality used instruments.
Instrument Donation Level
If you own a high quality instrument you would like to do- nate to ABC as a tax deduction, this is another valuable way to help this project. Should the instrument not be needed for use by ABC, we will, with the donor's permission, do- nate it to a worthy school program for beginning band.
Once you donate to "Play It Again, Sam" we will connect you with the master's candidate, band director who will use the instrument throughout the remainder of his or her tenure in our program.
Here's another even simpler way:
Max McKee just completed his 300-page book called "Banned Stories." Buy a copy of the online flipbook version for only $30. The entire amount will go to our endowment fund as a donation. Or, purchase the hard- bound, printed book for $100 and receive a an auto- graphed copy complete with DVD for the more than 50 videos of stories being told by the giants of the band.... sorry banned...profession. Simply purchase one tonight before you leave the concert. Remember:
Western International Band Clinic, Inc is a 501(c)(3) Non-profit Corporation And your donation is tax deductible
The Project
For many of our candidates, transportation costs to ship large instruments to the Rogue Valley from 40 states and half-a-dozen foreign countries each summer are simply too high (up to $400 to ship a tuba to and from Ashland). So, the American Band College is finding ways to make available high quality, large instruments for use by masters candidates each year.
The Progress
Donations since 2014 have resulted in $25,000 in earnings that have gone to solving a huge problem for 2015 when we need to have 8 tubas on hand. Just this month we have purchased some high quality used instruments that cut out needs in half. But, we still need another $200,000 in instruments to acquire a complete second set of all percussion instruments as well as large woodwind and brass instruments.
The Match Up
With the donations received this past year, we've linked up master's candidates playing the instruments purchased with those who helped us out. We expect to see several of those people at one or both of our concerts. With the students hearing "Play It Again, Sam" from the donors, all those instruments will get a great work- out and we can do a match up between the players and the donors.