Page 2 - American Band College 2015 Concert Program
P. 2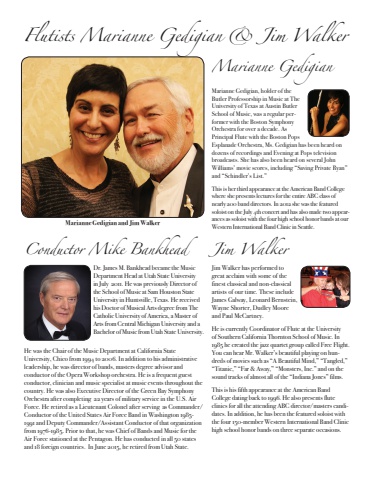 Flutists Marianne Gedigian & Jim Walker Marianne Gedigian
Marianne Gedigian and Jim Walker
Conductor Mike Bankhead
Dr. James M. Bankhead became the Music Department Head at Utah State University
in July 2011. He was previously Director of the School of Music at Sam Houston State University in Huntsville, Texas. He received his Doctor of Musical Arts degree from The Catholic University of America, a Master of Arts from Central Michigan University and a Bachelor of Music from Utah State University.
He was the Chair of the Music Department at California State University, Chico from 1994 to 2006. In addition to his administrative leadership, he was director of bands, masters degree advisor and conductor of the Opera Workshop orchestra. He is a frequent guest conductor, clinician and music specialist at music events throughout the country. He was also Executive Director of the Green Bay Symphony Orchestra after completing 22 years of military service in the U.S. Air Force. He retired as a Lieutenant Colonel after serving as Commander/ Conductor of the United States Air Force Band in Washington 1985- 1991 and Deputy Commander/Assistant Conductor of that organization from 1976-1985. Prior to that, he was Chief of Bands and Music for the Air Force stationed at the Pentagon. He has conducted in all 50 states and 18 foreign countries. In June 2015, he retired from Utah State.
This is her third appearance at the American Band College where she presents lectures for the entire ABC class of nearly 200 band directors. In 2012 she was the featured soloist on the July 4th concert and has also made two appear- ances as soloist with the four high school honor bands at our Western International Band Clinic in Seattle.
Marianne Gedigian, holder of the
Butler Professorship in Music at The
University of Texas at Austin Butler
School of Music, was a regular per-
former with the Boston Symphony
Orchestra for over a decade. As
Principal Flute with the Boston Pops
Esplanade Orchestra, Ms. Gedigian has been heard on dozens of recordings and Evening at Pops television broadcasts. She has also been heard on several John Williams' movie scores, including "Saving Private Ryan" and "Schindler's List."
Jim Walker
Jim Walker has performed to great acclaim with some of the finest classical and non-classical artists of our time. These include James Galway, Leonard Bernstein, Wayne Shorter, Dudley Moore and Paul McCartney.
He is currently Coordinator of Flute at the University
of Southern California Thornton School of Music. In 1985 he created the jazz quartet group called Free Flight. You can hear Mr. Walker's beautiful playing on hun- dreds of movies such as "A Beautiful Mind," "Tangled," "Titanic," "Far & Away," "Monsters, Inc." and on the sound tracks of almost all of the "Indiana Jones" films.
This is his fifth appearance at the American Band College dating back to 1996. He also presents flute clinics for all the attending ABC director/masters candi- dates. In addition, he has been the featured soloist with the four 150-member Western International Band Clinic high school honor bands on three separate occasions.