Page 13 - American Band College 2015 Concert Program
P. 13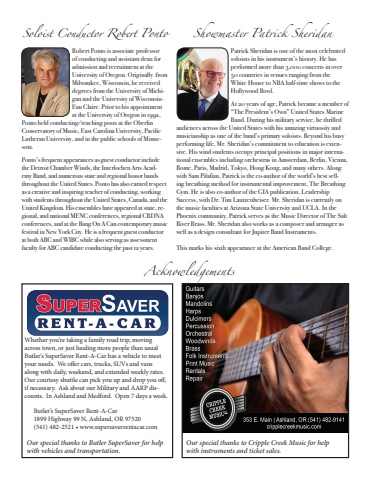 Soloist Conductor Robert Ponto
Robert Ponto is associate professor
of conducting and assistant dean for admission and recruitment at the University of Oregon. Originally from Milwaukee, Wisconsin, he received degrees from the University of Michi- gan and the University of Wisconsin- Eau Claire. Prior to his appointment at the University of Oregon in 1992,
Ponto held conducting/teaching posts at the Oberlin Conservatory of Music, East Carolina University, Pacific Lutheran University, and in the public schools of Minne- sota.
Ponto's frequent appearances as guest conductor include the Detroit Chamber Winds, the Interlochen Arts Acad- emy Band, and numerous state and regional honor bands throughout the United States. Ponto has also earned respect as a creative and inspiring teacher of conducting, working with students throughout the United States, Canada, and the United Kingdom. His ensembles have appeared at state, re- gional, and national MENC conferences, regional CBDNA conferences, and at the Bang On A Can contemporary music festival in New York City. He is a frequent guest conductor at both ABC and WIBC while also serving as assessment faculty for ABC candidate conducting the past 12 years.
Showmaster Patrick Sheridan
Patrick Sheridan is one of the most celebrated soloists in his instrument's history. He has performed more than 3,000 concerts in over 50 countries in venues ranging from the White House to NBA half-time shows to the Hollywood Bowl.
At 20 years of age, Patrick became a member of "The President's Own" United States Marine Band. During his military service, he thrilled
audiences across the United States with his amazing virtuosity and musicianship as one of the band's primary soloists. Beyond his busy performing life, Mr. Sheridan's commitment to education is exten- sive. His wind students occupy principal positions in major interna- tional ensembles including orchestras in Amsterdam, Berlin, Vienna, Rome, Paris, Madrid, Tokyo, Hong Kong, and many others. Along with Sam Pilafian, Patrick is the co-author of the world's best sell- ing breathing method for instrumental improvement, The Breathing Gym. He is also co-author of the GIA publication, Leadership Success, with Dr. Tim Lautzenheiser. Mr. Sheridan is currently on the music faculties at Arizona State University and UCLA. In the Phoenix community, Patrick serves as the Music Director of The Salt River Brass. Mr. Sheridan also works as a composer and arranger as well as a design consultant for Jupiter Band Instruments.
This marks his sixth appearance at the American Band College.
Acknowledgements
Whether you're taking a family road trip, moving across town, or just hauling more people than usual Butler's SuperSaver Rent-A-Car has a vehicle to meet your needs. We offer cars, trucks, SUVs and vans along with daily, weekend, and extended weekly rates. Our courtesy shuttle can pick you up and drop you off, if necessary. Ask about our Military and AARP dis- counts. In Ashland and Medford. Open 7 days a week.
Butler's SuperSaver Rent-A-Car
1899 Highway 99 N, Ashland, OR 97520
(541) 482-2521 • www.supersaverrentacar.com
Our special thanks to Butler SuperSaver for help with vehicles and transportation.
Our special thanks to Cripple Creek Music for help with instruments and ticket sales.